About Between
"Sometimes the Between can be challenging and unknown and may be fear-producing, but it can also be really a liberating and wonderful place to be."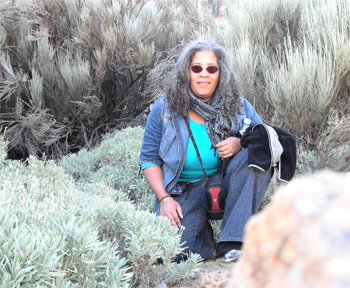 Inspired by Sarah's trip to the Canary Islands in late 2010, BETWEEN: A Journey Through the Middle spins a singing conversation that celebrates the journeying places in each of us, reminding us to embrace edges, transition and change.
"I found myself on this island between Africa and North America and I felt very connected and disconnected to this place at the same time. I was interested in that tension, what was going on between those two emotions. I realized this sensation was familiar, yet unexamined. I began to envision a piece created with other singers where I could reflect on that experience," says Sarah.
Three years later, Sarah developed BETWEEN. Using invented song, dance and story, she and her fellow griots strive to balance ancestral lineage and wisdom with contemporary intuition and improvisation.
All of the movements in Sarah's work are based on improvisation; some pieces use a set text or recurring melody, but for most of them, the ensemble discovers and develops the pieces on stage in front of the audience.
"I wanted this to be a work about celebrating tensions and transitions and about how to move forward when we cannot always see the road ahead. And, I wanted to study how we move forward with others who are also searching and traveling through their own edges and changes."
"Those desires make improvisation the perfect vehicle for this project. In fact, vocal improvisation and the idea of being 'between' are inextricably intertwined. Improvisation is about finding a place to begin a piece and discovering what music you can make along the way."